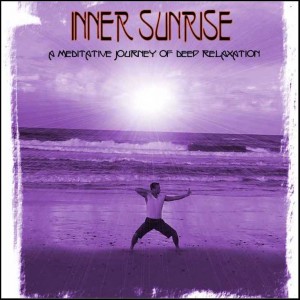 Join Zen Yoga master Aaron Hoopes as he guides you on a journey inwards towards the peaceful serenity that exists at the center of your being.
This guided meditation program focuses on deep, conscious breathing while it releases tension, relaxes the body and instills calmness through energy visualization techniques. It allows you to let go and explore the peace within.
Set to the soothing sounds of the ocean as a background, Inner Sunrise is a 25 minute program that can be listened to again and again, whenever you need a little peace and relaxation.
Prepare to feel wonderful!
*Reviews*
"

I just wanted to let you know that I started using your CD yesterday in the morning. I cannot begin to describe the difference it has made in such little time. I am under tremendous stress…so to know that I have this CD to help me de-stress, breath properly and relax is a gift from heaven. Thank you SO much.

"

Donna Abelli, Amherst, MA
"

I received the CD's and have great news. A mother of one of our judo students has had great success from listening to your CD. She suffers from panic attacks and has trouble trying new things; however, she tried your CD and found it extremely helpful, calming.

" –

Sonia Mesa, Miami, FL
"

Wow, I jus

t listened

to your relaxation CD. It was excellent. Just the right length, just the right pace. I ordered a copy for our clinic library, and lis

tened to it myself first.

" – Damon Russell, Vitality Chiropractic, Brisbane, Australia
Inner Sunrise CD – $15