Namaste,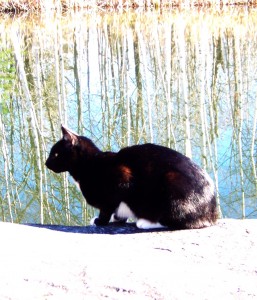 Just as when the waters of a lake are calm, everything is reflected accurately. However, if we should throw a pebble into the lake, the reflecting surface becomes disturbed. These disturbances create distortions.
So too is the lake of our mind disturbed by the little pebbles and huge boulders we throw into it in the form of turbulent worries, thoughts, ideas etc. When our mind is still, clear and controlled, the Self is easily visible. We no longer feel like a stranger to the person we really are. A feeling of inner peace arises, the conflicting issues and burdens we have been carrying around, begin to lighten up.
There is tremendous pressure, tension and expectation being placed on us by ourselves and sometimes by others in playing the game of being who we project. Ordinarily, in the course of our lives we become estranged from ourselves and we construct a superficial understanding of who we are.
Who "I" am is reflected through the use of our mind. The disturbed mind – the mind which creates worries, stress and distortions; and the mind of enlightenment – the mind which allows us to experience peace, joy and clarity… are the same mind.
Discipline of the mind will bring about calmness, resulting in peace, happiness and a fully integrated personality. Essential to a still mind is practice. Too see and experience our difficulties on a deeper level, gets us to the core of our hurt, fear, anger and our pain. There are many airy-fairy, quasi-spiritual approaches which can temporarily make us feel better. Self-help books are a dime a dozen. Many of them attempt to reduce common sense into a 'formula' that when applied to an individuals life circumstances, will positively and permanently alter his or her life.
Rather than seeking to feel better or escape our pain. Why not make our primary goal one of peaceful residing in the ordinariness and discomfort of everyday life?    Of living an authentic life, as opposed to the substitute life that so many of us are accustomed to living.  Let's Be better.
A still mind through the practice of meditation helps us to deal with the difficulties of daily life. Whether it be something as minor as being cut off on the road or something larger like depression, grief, self-doubt, relationship troubles or illness. We will still feel pain, get hurt, angry, disappointed, fearful…but we will relate to all of this differently. Authentic spiritual practice allows us to experience in joy or in sadness, in peace or in total chaos, a deeper connection to God (that which we call "I").
The practice is always the same:
Be present. Be here and now.
The next Zen Yoga precept to be summarised is Nourish Your Body.
Wishing you stillness and peace,
Elfeya Hoopes