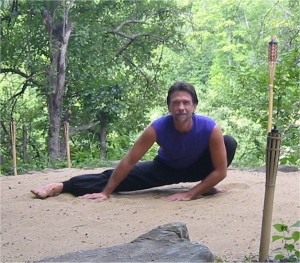 Aaron Hoopes E-RYT 500 – Founder Art of Zen Yoga.           
Aaron,  a native of Vermont, is an author, personal trainer and retreat facilitator with over twenty-five years experience in the martial arts, yoga and Eastern healing traditions. 
Aaron is an inspirational speaker who lives what he teaches.  Aaron has helped countless people to realize and reach their highest potential, through his dynamic, heartfelt and gentle instruction. The Tao, Zen and Eastern healing modalities have been in the forefront of Aaron's training, however he has also studied and practices Shamanic healing arts which are steeped in Celtic and Lakota traditions. He has a deep respect for the natural world and grows medicinal plants which he uses to make a variety of herbal remedies. Aaron lives on Dragon Mountain in Vermont.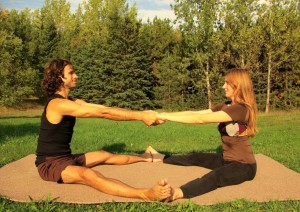 Joey Lemieux and Ellen Brakel
(Ontario, Canada)
–
Joey is a Level 2 Zen Yoga Instructor with a deep appreciation for life and this planet. He is a certified Body & Foot Reflexologist, Zen Yoga instructor, Permaculture Designer, and an RCRT (Registered Canadian Reflexology Therapist). Currently he is co-founder of Soaring Heart Wellness where he teaches Zen Yoga and has a healing practice.
Ellen

is a Level 1
Zen Yoga instructor and has been practicing the healing arts for fifteen years. She has a background in Massage Therapy from Sutherland Chan Massage and Teaching Institute, as well as Cranial Sacral Therapy through the  Upledger Institute. Ellen's interest in self–

healing propelled her to learn more about energy and movement which led her to her certification in the Nia Technique and

Zen Yoga

. Currently she is the co-founder of

Soaring Heart Wellness

where she teaches Zen Yoga and Nia classes and has a healing practice.
 You can read Ellen's article
Accessing Creative Flow here
. 
Contact Ellen & Joey at  Soaring Heart Wellness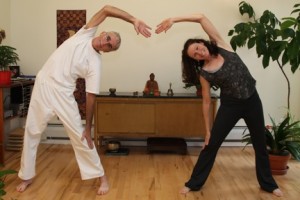 Tom Lauritsen & Kathleen O'Donnell
(Springfield, VT)
  –
Tom is a Level 1 Zen Yoga instructor. His main focus has been the arts of Do-In & Shiatsu as well as various meditation disciplines. In his younger days he had the fortune to hike through India, a trek that left a lasting impression. Tom is a co-founder of
Studio Time and Space
where he teaches regular Zen Yoga classes and other meditative and holistic arts.
Kathleen is a Level 1 Zen Yoga instructor. She has been a student of dance and meditative movement all her life. She is an accredited Reiki Master and instructor of the Lebed Method Healthy Steps. She has danced with the Flock Dance Troup, Gabrille Roth, and Emily Conrad. She is a Licensed Nurse Assistant and hospice volunteer providing home health care and vigil companionship. Kathleen is a co-founder of
Studio Time and Space
where she teaches regular Zen Yoga classes and other meditative and holistic arts. Contact
Studio Time and Space
Jennifer Sheldon (Wangaratta, Australia) is a Level 1 Zen Yoga instructor and the founder of 'Sunlight Healing' Natural Health & Wellbeing Centres in North-East Victoria, Australia. She is a dedicated Natural Health Practitioner specialising in Reiki (level III), with diplomas in Indian Head Massage, Flower Remedies, and qualifications in Ear Candling, Meditation, Crystal Light Balancing and Advanced Theta Healing.

Jennifer's lifelong interest in spirituality and the healing arts has led her on a journey of ongoing study and practice in these areas. Jennifer continues her journey as a student and teacher.
Jennifer offers ongoing Zen Yoga classes for all ages, including Children's Zen Yoga. Classes are held at 'Sunlight Healing' Wangaratta and Myrtleford, with some outdoor classes also available. Jennifer welcomes the opportunity to bring Zen Yoga to schools and various events and gatherings. Contact Jennifer at  www.sunlighthealing.com.au for further details.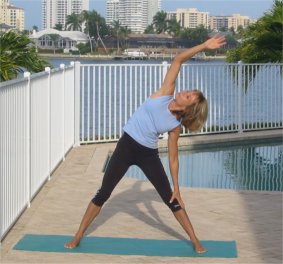 Carla Botalla ( Marco Island, FL)
 – Carla Bottalla a Level 2 Zen Yoga instructor and Registered Nurse with a Bachelor of Science degree from Loyola University of Chicago. She has been certified with the American Council on Exercise since 1998. Carla currently resides in Marco Island, Florida. .  Carla's main focus is on health promotion and body awareness. As Chief Instructor of Zen Yoga Marco Island, Carla teaches individual and/or small group sessions of Gentle Zen Yoga, Deeper Zen Yoga, Warm Up Stretching, and Breathing Exercises. She also teaches basic body building/awareness classes for pre-teens.
Carla loves to make a difference in peoples lives. Her personal goal in working with young people is to encourage them to embrace their personal success and develop self-esteem and self-respect through body-breath awareness.
. 
 Carla has travelled extensively to deepen her practice. She has studied with Qigong Masters in Beijing and the Wudang Mountains in China and has worked with Shaman teachers in Peru. Carla continues to study Energy Medicine and also teaches Qigong as a stand alone class. She is a level 1 Reiki practitioner and student of Dance. Carla experiences dance as a beautiful and challenging way to activate and express creative energy. You can read her article Accessing Creative Flow here.
.Carla is available for demonstrations, seminars, workshops and personal training. Contact Carla at Zen Yoga Marco Island
email: island57FL[at]comcast.net
Karen Holden (Perth, Western Australia)

– Karen is a Level 1 Zen Yoga Instructor who has been teaching other forms of Yoga, including children's yoga, since 2006. As a gymnast in her formative years she turned to yoga in 1998 to assist in coping with chronic back pain and began her exploration into yoga, meditation, aromatherapy, massage and reflexology.

Karen is the creator of The Zen Zone and she approaches life and yoga from a fun and relaxed perspective. Currently she runs a class for teachers and will be opening more classes in 2012.

She is also interested in running mini yoga retreats for women. 
Karen hopes to complete her Bachelor of Teaching (Early Childhood Education) in 2012 and combine her love of children and yoga to create a unique yoga environment in which to grow and practice.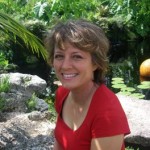 Sonia Mesa (Gainsville, FL) – Sonia is a Level 2 Zen Yoga instructor brings a life's passion for fitness to her teaching style by offering a nurturing environment where students are encouraged to take the breathing and relaxation techniques learned in class and apply them to their daily lives.
Using ten years of classical ballet as her foundation, Sonia's athletic endeavors have included women's indoor & outdoor soccer, Hatha yoga, triathlon, rock climbing and English style equestrian. Seeking to balance these physically demanding activities, she embraced the eastern arts first with Rinzai Zen Meditation and Chen-style Tai Chi followed with certifications in Zen Yoga and Wisdom Qigong.
  Sonia leads classes in Tai Chi, Zen Yoga, Wisdom Qigong and Meditation to all ages and presents Wellness workshops to assist those recovering from cancer. She is the creator of Zen Jump an aerobic breathing and movement workout.
Sonia offers classes in Gainesville Florida by appointment.    
Marcie Loffredo (East Hampton, CT) – Marcie is a Level 1 Zen Yoga Instructor who has been teaching Yoga, full time, since 2001. Marcie is the founder and owner of

Yoga for Health

. Her classes are designed for mixed levels, from people new to Yoga to the experienced Yogin. Marcie works closely with her new students to help them move into the asana as easily as possible and explains the benefits of the asanas. She also adjusts and assists her students in their asanas when necessary. Marcie also teaches Tai Chi and is currently studying Usui Reiki. Marcie is registered with Yoga Alliance at the 200 hour level, her Yoga background is Ashtanga Primary Series but she teaches several different styles in addition to Zen Yoga. Marcie teaches at various locations in CT. She can be contacted through 

Yoga for Health

.